Forum Officer Fled74 recently shared his custom Cover Girl in coveralls with us and also took the time to answer a few questions about how he got into collecting and customizing:
Q.  What got you into collecting 1:18 scale figures and vehicles, and how long have you been collecting them?
A. I had a few ARAH Joes when I was 10 or so (in 1984), and it didn't take long for me to start swapping their body parts around.
I outgrew them (or so I thought) a few years later, only to rediscover them in 2003 when I picked up a few Valor Vs Venom figures at TRU. I noted the improved sculpting, but I still found them lacking (mainly the articulation and body proportions).
Thanks to Australian retailers, we never got the 25th Anniversary line. It wasn't until I saw the quality of the Rise of Cobra figures that I sat up and took notice.
Q. When did you start customizing and what was your first custom?
A. Like I said, I'd done parts swapping with my ARAH figures, but the first true custom I did was a female diver, in mid-2011 (http://www.fighting118th.com/forum/s…postcount=1162).
Q. What made you decide to try your hand at customizing?
A. At first I just wanted to put my own stamp on an existing figure, then I realised that I could make figures I had no access to, or those that were not available in 1:18.
My Underworld Selene, for example: (http://www.fighting118th.com/forum/s…postcount=1590); or my custom Lara Croft (http://www.fighting118th.com/forum/s…ead.php?t=1673).
Customizing is a great way to improve my skills, as well as discover skills I didn't know I had!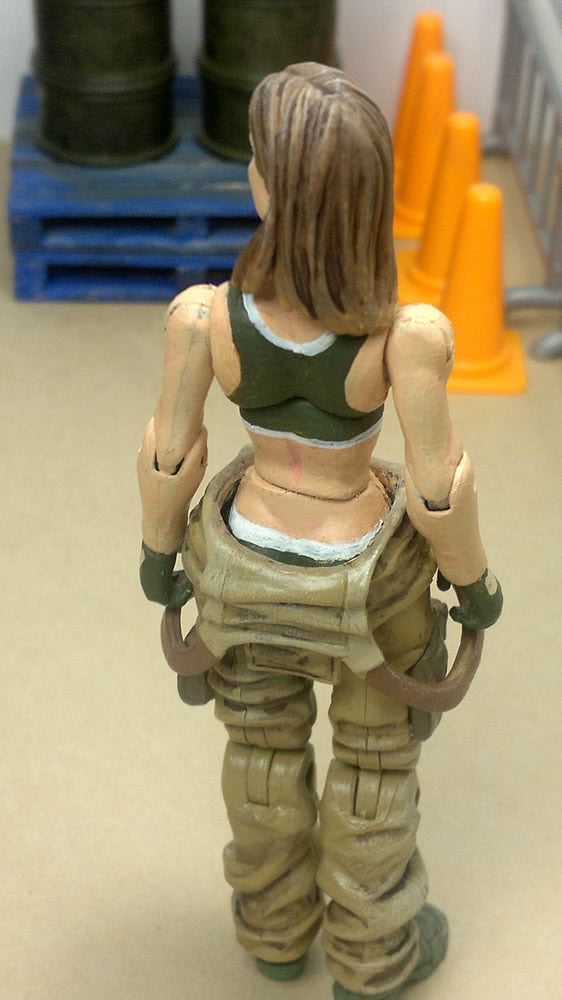 Q.  What was the inspiration for your Cover Girl custom?
A. Someone had posted a custom female mechanic on Joecustoms a few years ago (http://www.joecustoms.com/customs/cu…page=9&id=8136) and I decided I'd like to try my hand at something similar.
It took a long time, but I eventually pulled my finger out and just jumped in. I'll be redoing her soon – I found a good Slayer torso in my spares box that would work well. Still sexy, but not as overtly as the current one is.
Q.  Do you have another custom planned, and if so, who?
A. Another female figure, I guess. Being an artist, I've always had an appreciation for the female form.

It's been said that a good artist is one who can draw beautiful females. I can do that on paper, and I'm now trying to achieve the same in three dimensions.
GI Joe has always been a sausage fest, and my predominantly male figure collection desperately needs more of the fairer sex.
We'd like to thank Fled74 for taking the time to answer a few questions and for sharing his customs. If you have the time, check out his incredible photography work with action  figures and vehicles as well!
You can join the discussion regarding Fled74's Cover Girl custom here.

5319 Total Views
1 Views Today